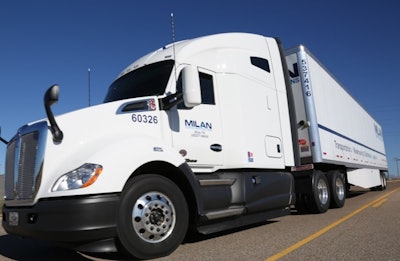 Milan Supply Chain Solutions, Inc. recently announced a pay increase for its regional over-the-road drivers and independent contractors.
Effective April 18, an experienced company driver can expect annual earnings of over $79,000, according to a statement from the company.
Milan also rolled out new pay rates for independent contractors. The company said its independent contractors can now gross over $189,000 annually.
"Our drivers are the lifeblood of the company," said Vice President of People Ops Rachel Lovell. "Their commitment never wavered during the pandemic and continues to stand strong. We want to reward them for their hard work and dedication"
In addition to enhancing drivers' base pay model, Milan has also implemented a minimum pay program.
"We are committed to improving the driver experience. said David Dallas, company president. "This program is designed to reassure the drivers that they are taken care of if the 'unknown' occurs!"
A statement from Milan said the company "continues to provide outstanding benefits for all company employees, including merit increases, low-cost healthcare, company matching 401K, voluntary life insurance and voluntary short-term disability." It also offers lease purchase options for business partners that include maintenance coverage and low weekly payments.
Milan provides regional transportation services in the Southeast and Midwest. Headquartered in Jackson, Tennessee for over 51 years, Milan operates over 650 power units and has about 2,000 trailers. It provides truckload, dedicated, brokerage and warehousing, and distribution services.