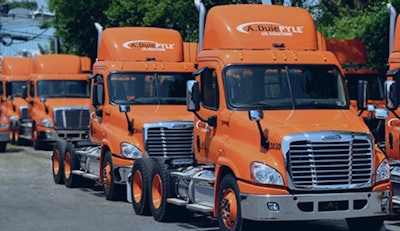 Asset- and non-asset-based fleet A. Duie Pyle has broken ground on a 115,000-square-foot expansion of its Hagerstown, Maryland, Integrated Logistics Center, which opened late last year. Once completed, which is expected in January 2022, the total square footage of the facility will reach 383,545.
The expansion will provide comparable warehouse and distribution functionality to Pyle's recent integrated logistics campus openings, including warehousing pick, pack and ship. It will also offer nearly 10,000 square feet of flammable storage. All of this will add to Pyle's existing 266,585 square-foot facility, which includes an 80-door LTL cross-dock, full-service fleet maintenance garage, along with office and warehouse space.
RELATED: Pyle opens new facility in Greencastle, Pennsylvania
Currently, the Hagerstown Integrated Logistics Center provides customers in the region with same- and next-day distribution, assembly and value-added project capabilities, final-mile delivery options, improved shipping integrity, extended cut times, consolidation and de-consolidation. It also includes complete integration of Pyle's LTL, Logistics, Dedicated and Warehousing & Distribution solutions.
The expansion will add to Pyle's overall capacity to meet the needs of its customers who utilize the transportation provider's supply chain solutions while also providing a strategic entry point to northeast distribution.