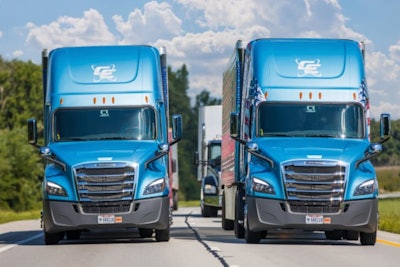 Continental Express Inc. announced recently a pay increase for all company drivers, effective immediately. This is the carrier's second driver pay raise within the last year, and part of a continuous effort to ensure drivers take home top industry pay, according to a statement from the company.
The new package includes a 2 cents per mile increase for over-the-road drivers, a 1 CPM increase for dedicated route drivers, and an additional $1 per hour for all local and hourly-paid drivers. The raise applies to current drivers and the starting wage for new drivers, bringing the annual start pay to $86,000.
This is Continental Express's second raise for professional drivers in the last nine months. In October 2020, OTR drivers saw a 3 CPM pay increase; the company's largest raise to date. Dedicated and local driver raises came in January.
"We know who is going the extra mile every single day, so recognizing and rewarding them is not an option—it is a must," said Continental Express's Director of Operations Jake Albers. "Being dynamic and agile in the ever-changing economic climate enables us to always remain competitive and worthy to delivering superior service to all of our internal and external customers."
Increased pay is just one of many efforts Continental said it is undertaking to make the company "a driver-forward operation." Flexible home and family time are at the forefront of operations. All OTR drivers receive four weeks of paid vacation, and 90% of drivers are home by noon on Saturday. Additionally, health insurance is free of cost to regional drivers.
"Continental Express has always been family-oriented. When it comes to financially taking care of your family, they are top tier. We've always enjoyed steady raises consistently," said David Wolford, a dedicated driver with the company for over 17 years.
Providing industry-leading, safe equipment to drivers is a priority as well, according to Continental. The fleet consists of the latest Freightliner Cascadias and the trucks' Qualcomm units are in the process of being replaced with new iPad tablets, equipped with a custom-built app, CE-GO.
Continental Express has some 450 drivers and terminals in Gaffney, South Carolina; Danville, Virginia; Louisville, Kentucky; Fort Worth, Texas; Indianapolis, Indiana; and Columbus, Ohio. Their corporate office is located in Sidney, Ohio.