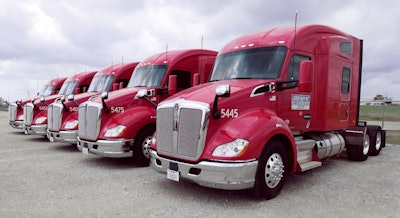 Groendyke Transport announced late last week that it has increased pay rates for some of its drivers as Phase 2 of a larger driver pay initiative.
This second phase affects Groendyke drivers hauling refined and bio fuels, aviation gas and jet fuel, and asphalt, increasing their pay an average of 6 percent overall. It represents a $1.32 million investment, according to a statement from the company.
Coupled with Phase 1, which raised pay for the tank truck carrier's chemical and liquid petroleum gas drivers, Groendyke has now invested about $3.5 million in driver pay increases in 2021.
"We are excited to make these pay changes for our professional drivers," said Groendyke President and CEO Greg Hodgen. "It is our aim to give our drivers the best overall combination of pay, benefits, equipment, and employment in the tank truck industry.
"Our long-term approach has proven itself over and over again. We are excited about our future in the tank truck industry and appreciative of the hard work our drivers do keeping America's economy moving."
RELATED NEWS: Wisconsin carrier raises pay for second time this year
Details on a third phase of driver pay changes will be released in the coming months, according to the company.
Based in Enid, Oklahoma, Groendyke Transport is one of the largest tank truck carriers in the nation and the only eight-time winner of National Tank Truck Carriers North American Safety Champion Award for the best overall safety program and record in the nation. The company's 1,079 drivers service 49 states, Canada and Mexico from its 40 terminal locations in 15 states.