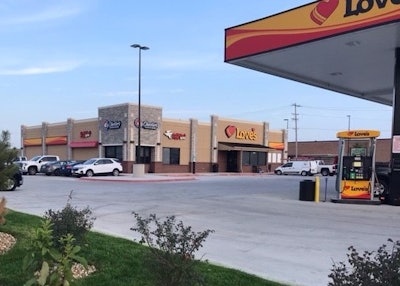 What do Monroe, Louisiana, and Elk Grove Village, Illinois have in common?
Both are homes to the newest Love's Travel Stops.
The company today opened the two new stores. The Monroe store is located off Interstate 20 (335 Highway 594) and the one in Elk Grove Village is located off Illinois Route 83 (1900 Busse Road).
Both locations are open 24/7 and offer:
Monroe, Louisiana
Chester's Chicken, Godfather's Pizza, and Subway (all opening Aug. 23)
90 truck parking spaces
Eight diesel bays
Seven showers
Laundry facilities
Speedco (opening later)
Fresh Kitchen concept
Mobile to Go Zone for electronics
CAT scale
Dog park.
RELATED NEWS: Newest TA Express opens on I-35 in Edgerton, Kansas
Elk Grove Village, Illinois
Chester's Chicken, Godfather's Pizza (both opening Aug. 23)
17 truck parking spaces
Five diesel bays
Four showers
Laundry facilities
Fresh Kitchen concept
Mobile to Go Zone for electronics
CAT scale
"We're excited to open our 10th and 29th locations in Louisiana and Illinois, respectively," said Greg Love, co-CEO of Love's. "We place Love's in locations that are easy to access and help get customers back on the road quickly and safely. These two locations – one in the South and one in the Midwest – fit the bill."