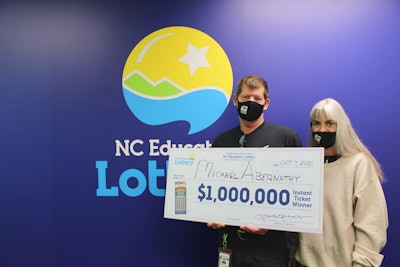 A newlywed trucker from Kentucky is starting married life with a lot of extra cash in his pocket.
Michael Abernathy, a 60-year-old driver from Lexington won the top prize in the Kentucky Lottery's Millionaire Maker game.
On Wednesday, Oct. 6, Abernathy bought a $30 Millionaire Maker ticket at a Sheetz store on South Main Street in Lexington. He won back his $30 and bought two more tickets, according to the lottery office. One had no prize but the other was good for $1 million.
"It's amazing. It's a blessing," said Abernathy.
While he won $1 million, Abernathy took a one-time lump-sum payment of $424,508 after taxes instead of $50,000 a year for 20 years.
He said he'll use some of the money for a honeymoon next year, pay some bills, and save some for retirement.