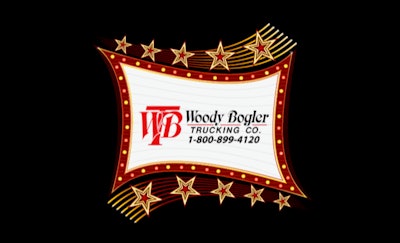 Woody Bogler Trucking Company, a van and end dump trucking carrier based in Gerlad, Missouri this week announced it was releasing what the company believes is the first non-fungible token (NFT) collection in the trucking industry.
New company drivers hired in the first quarter of 2022 will receive an NFT upon completion of their orientation and training. The NFT is being launched on the OpenSea marketplace and may be held, transferred, or sold thereafter.
"NFTs have been a personal area of interest to me and they are built on the same technologies as Bitcoin or Ethereum," said Tracy Bogler, president and CEO of the company founded in the 1920s. "You can think of an NFT as a deed or a token. Owning an NFT really provides a sense of belonging to a community and we thought it would be interesting to create a collection and then offer ownership to our drivers. We realize that many people are unfamiliar with these digital assets, but we believe they have great potential in the trucking community."
The collection will consist of five Woody Bogler designs, which can be accessed either in OpenSea.com or held in certain other crypto wallets. Woody Bogler will transfer NFT's to driver wallets which incur no cost to the drivers to hold.
According to Bogler, feedback from drivers has been very positive.
"We strive to bring innovation to our company in everything that we do and also strongly understand that our drivers are the human component of our success, so this offering rewards our drivers with the opportunity to participate in the burgeoning NFT market," said Bogler. "We are trendsetters in this space for sure."