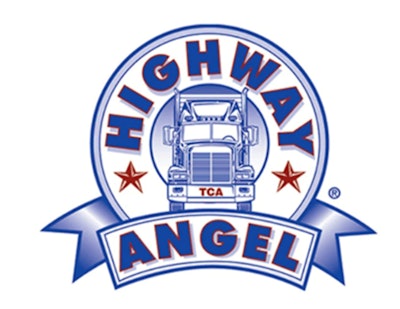 A trucker was honored recently for aiding a couple who were trapped in a rental vehicle that had crashed.
The Truckload Carriers Association named Roy Davison, from Crown Point, Indiana, a Highway Angel for stopping to help a couple after they lost control of the U-Haul truck and trailer they were driving and flipped.
TCA explains:
Roy DavisonOn Oct. 9, late that evening, Davison was eastbound on Interstate 94 near Altoona, Wisconsin on his way to Chicago. He had just crested a hill, when he saw a U-Haul truck up ahead pulling a trailer loaded with a minivan lose control and flip. The trailer separated from the truck and rolled over in the ditch, crushing the roof of the minivan. Without a moment to spare, Davison slowed and maneuvered his truck and trailer to block the two-lane road. He then jumped out and ran to the overturned U-Haul which was lying on its passenger side.

"I saw two faces looking through the windshield at me," said Davison. "I knew it wouldn't be safe to break the windshield to get them out, so I climbed up onto the undercarriage of the U-Haul." Another driver who had stopped held the driver's door open. Davison carefully made his way inside the truck. The driver and passenger, a couple in their 60s, were still strapped into their seats. "I helped the driver step on the armrest and then boosted her up and the other driver pulled her up," Davison said. He then worked on helping the passenger, who was buried underneath some of the couple's possessions that had come loose when the U-Haul flipped over. "We finally got him out," he said. "They were both able to walk on their own."

Once they were safely out of the vehicle, Davison asked the driver what had happened. "She said, 'It just got all squirrely and thank you, Jesus!'" he said. "They were lucky to be able to walk away from it. They took quite a ride coming over that hill. I almost didn't see them when I came over the hill as there was some fog."

Davison said all of the couple's belongings were in the U-Haul truck and in the minivan. "There was broken glass everywhere and their stuff was scattered all around," he said. "I felt really bad for them. I found their cell phones and keys and they had their family Bible with them which they took in the ambulance with them."

Davison has been driving for nearly 23 years, 15 of those with ABF Freight Systems.
TCA presented him with a certificate, patch, lapel pin, and truck decals. His employer has also received a letter acknowledging him as a Highway Angel.
Since the program's inception in August 1997, nearly 1,300 professional truck drivers have been recognized as Highway Angels for the exemplary kindness, courtesy, and courage they have displayed while on the job.
The program's presenting sponsor is EpicVue, and the supporting sponsor is DriverFacts.