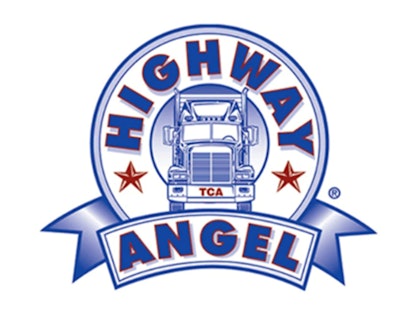 Paul Ryan Bales, from Nixa, Missouri, has been recognized for rushing to the aid of a man trapped in his overturned vehicle that caught fire.
The Truckload Carriers Association honored Bales as a Highway Angel for his actions.
TCA explains:
On last Aug. 20, in the early morning hours, Bales was eastbound on Interstate 44 near Rolla, Missouri on his way to St. Louis, something he does every Friday, when he noticed that cars ahead of him were hitting their brakes and swerving. "I figured it was something in the road," he said. "But as I approached the overpass, I saw a pickup truck on the shoulder in a ball. It was a mangled mess, upside down. I thought it must have just happened."

Paul Ryan BalesHe quickly pulled off on the shoulder and ran back. "Two other guys, construction workers in a pickup stopped," he shared with TCA. "We didn't know how many people were in the pickup or ejected." They found a man under the truck. "He wasn't moving." Then they noticed flames coming from underneath the front of the truck. "We dragged him as far as we could without injuring him," said Bales. "He was in bad shape."

Bales then ran back to his truck to grab his fire extinguisher, but it was no match against the flames. "I tried to flag down other trucks and was waving my fire extinguisher in the air." Another driver stopped, but by this time the pickup was engulfed in flames. It wasn't long before paramedics and firefighters arrived on the scene. "They air-evacuated him to St. Louis," said Bales. "You know when they bring the helicopter in it's not good."

Bales has been driving for 30 years, 22 of them with Ryder and has been the first one on the scene of many accidents. "I'm glad I noticed him, saw his truck. That time of the morning everyone is on a mission to get to work, and it was a Friday that day," he said. He's also grateful for the other drivers who stopped to help that day and made a difference in saving the driver's life.

Bales said the driver, an older man, wasn't wearing a seatbelt and had been ejected from his vehicle. "I could see where he had hit the guardrail," he recalled. "The truck went end over end underneath the bridge. It was dark underneath the overpass and other drivers were concentrating on avoiding pieces of metal strewn from the truck. The top was ripped off like a sardine can." Despite the seriousness of the accident and the injuries the driver sustained, Bales heard he was expected to make a full recovery.
TCA has presented Bales with a certificate, patch, lapel pin, and truck decals. His employer has also received a letter acknowledging him as a Highway Angel.
Since the program's inception in August of 1997, nearly 1,300 professional truck drivers have been recognized as Highway Angels for the exemplary kindness, courtesy, and courage they have displayed while on the job.