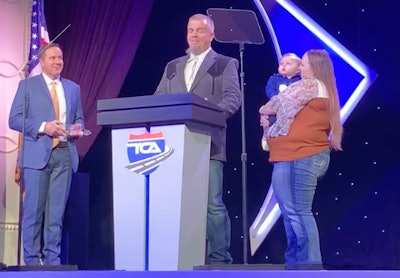 A man who is said to have been in the right place at the right time last November helped save the lives of two people in a car crash and today was honored as the Truckload Carriers Association's Highway Angel of the Year for 2021.
Christopher Lloyd, a driver for Airline Transportation Specialists from Forest, Mississippi was honored during the TCA's annual convention in Las Vegas. He was chosen by voting online by the public.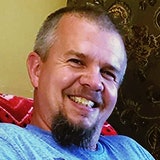 Lloyd was one of three finalists. He was nominated for the annual award for his actions that led to the early morning recuse of two people whose car had slammed into a utility pole in Nashville.
Lloyd saw the crash as it happened on a surface street while he was on his way to the FedEx hub. He stopped, called 911 and then grabbed his fire extinguisher and ran to the vehicle. He couldn't fully extinguish the flames so returned to his truck, grabbed a winch bar and 10-pound hazmat extinguisher, and returned to the fire scene.
Lloyd, who had trained as a volunteer firefighter and also served in the Coast Guard, managed to put out the fire and with others who had stopped, tended to the car's driver and a passenger until emergency responders arrived.
Oddly enough, Lloyd was not even supposed to be there that night.
"That wasn't my normal run that night," said Lloyd. "The driver that usually takes that run had broken down. The dispatcher called and asked if I could take it. I was delayed by over an hour, but somehow it all lined up for me to be there at that precise moment in time to hopefully save their lives."
"Thank you for your selfless act of courage that night," said EpicVue CEO Lance Platt after presenting Lloyd with a personalized crystal truck.
On stage, Lloyd, joined by his wife Chrissy and 10-month-old son Jimmy, was presented a personalized crystal truck.
"Airline Transportation is very proud of Chris and feel so honored to have such a man representing our company," shared company president Tom Medved. "His hard work as a driver is only exceeded by the size of his heart. Our company is so happy that Chris is receiving recognition for his brave actions and feel very privileged to work with such a man every day!"
Lloyd will receive a complimentary EpicVue satellite TV package that includes a 24-inch flatscreen TV, a DVR, and a one-year subscription to over 100 channels of DIRECTV programming, including premium channels such as HBO, Cinemax, Showtime, and the NFL Sunday Ticket.
The other two finalists for the award were Calvin and Corey Williams, who drive for Armellini Express Lines, Inc., and Addis Tekelu, a driver for CKJ Transport.