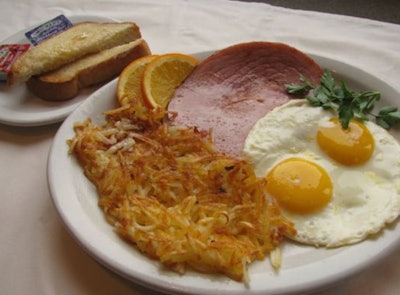 Gee Cee's truck Stop
A constant complaint among truckers is the supposed demise of the traditional, independent truck stop serving belly-filling meals made by authentic cooks. The criticism is that such places have been all but replaced by chain travel centers that feature mostly fast food fare.
However, no less a culinary authority than Food & Wine magazine has assembled a list it calls "The Best Gas Station and Truck Stop Food in America." The article was written by David Landsel, who has authored numerous "best of" articles for Food & Wine.
The article -- which you can read here -- includes 33 locations. Among them are places most likely familiar to even newish truckers (Boise Stage Stop, Iowa 80, Johnson's Corner), but also some smaller atypical places like the Balkan Grill in Gary, Indiana (Landsel praises its "stuffed burger, or Pljeskavica, oozing mozzarella cheese and served between a distinctive, Serbian style somun bread.")
He says of the list, "... we went heavy on the mom-and-pop experience, on independent operations, one-of-a-kind experiences that in many cases, aren't just worth a stop, but a special journey."
Landsel opens his piece by praising Dysart's, the iconic truck stop in Bangor, Maine.
"Everything at Dysart's, from the baking to the cooking and even the rushed-off-their-feet service, feels intentional, like somebody actually gives a dam," writes Landsel. "When you run a restaurant like that, for as long as Dysart's has, people come to count on you — truckers, loggers, summer people, local retirees on a fixed income, and everybody else hanging around Maine's third-largest city."
Use the comments section below to add your favorites to this list.