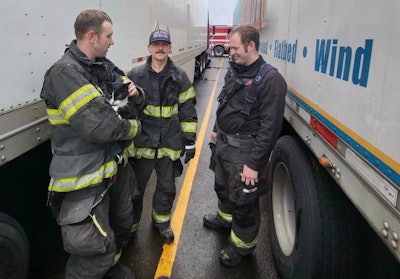 Lewis County Fire District 5
Firefighters in Washington earlier this week rescued a cat that had been riding on a tractor-trailer.
It seems as though a trucker stopped at the Love's in Napavine, Washington about 35 miles south of Olympia. As he was doing his pre-trip, he heard a cat yowling ... from the axle of his trailer.
A crew from Lewis County Fire District 5 was dispatched to the scene.
"The feline hitchhiker was removed and taken to Jackson Highway Veterinary Clinic to get scanned for a microchip," the department posted to its Facebook page. "It is assumed the cat had been hitchhiking for quite some time."
The last stop the truck made before Napavine was in Fairview, Oregon.
No identifying microchip was found, so the cat stayed at the fire station temporarily. Authorities are hoping its owner will see media reports or social media posts about the cat and reclaim it.