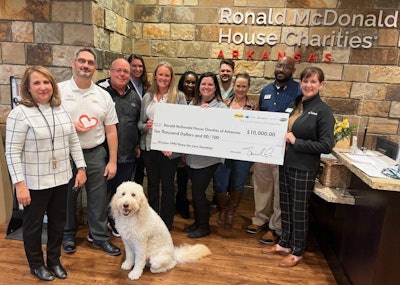 Love's Travel Stops
Love's Travel Stops celebrated the 10th year of its annual Share the Love event by donating $110,000 to nonprofit organizations across the country on behalf of its more than 39,000 employees. Additionally, 300 Love's employees in Oklahoma City, and 40 Trillium Energy and Musket employees in Houston, spent Valentine's Day volunteering at organizations where their corporate offices are located.
"Giving back is at the core of Love's culture, whether at our corporate offices or the more than 600 locations throughout the country," said Jenny Love Meyer, chief culture officer and executive vice president of Love's. "Share the Love is one of our favorite events of the year and a great way for team members to give back to the communities where they live and work."
Love's corporate employees spent Tuesday volunteering in Oklahoma City at nonprofits including: the Regional Food Bank of Oklahoma, OKC Beautiful, Central Oklahoma Habitat for Humanity, Positive Tomorrows, Citizens for Caring Children, The Bella Foundation and Tuscany Village Nursing Center. Additionally, Trillium Energy Solutions and Musket employees, members of the Love's Family of Companies located in Houston, volunteered with Houston Habitat for Humanity and the Houston Food Bank.
Team members at Love's Travel Stop locations across the country also had the chance to participate in the event by voting on an organization in their division to receive $10,000.
The following organizations received $10,000:
Boys & Girls Clubs of Cascade County in Great Falls, Montana
Ronald McDonald House of Charities of Arkansas in Little Rock, Arkansas
Madison County CASA in Jackson, Tennessee
Nathan's Children's Fund in Clive, Iowa
Attach Families in Fort Mills, South Carolina
His Helping Hands in Wichita, Kansas
DSquared Homes for the Homeless in Chandler, Arizona
The Dayton Foodbank in Dayton, Ohio
Boys & Girls Club of SE Alabama in Ozark, Alabama
Wesley Community Center in Houston, Texas.
LARC DVS in Liberal, Kansas.
For more information on Love's giving history, visit loves.com/news.