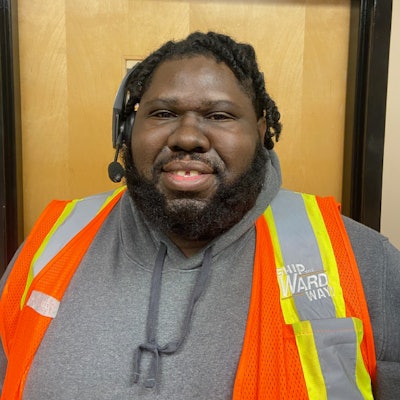 A truck driver who stopped to help at the scene of a wreck involving two tractor-trailers has been recognized for his efforts by a national trade organization.
The Truckload Carriers Association recently named truck driver Justin Haywood of Durham, North Carolina, a Highway Angel for helping rescue a trucker trapped in his vehicle after a two-truck crash. Haywood drives for Ward Trucking out of Charlotte, North Carolina.
TCA explains:
Around 1 a.m. on Dec. 16, 2022, Haywood was traveling north on Interstate 95 near Emporia, Virginia. While en route, Haywood noticed two tractor-trailers were involved in a wreck and no one was at the scene. The first truck blew a steer tire, which pulled him into the median and made his truck bounce into the guard rail.

"I saw the second truck hit the back of his trailer," he said. The crash knocked the first trailer into oncoming traffic.

Haywood pulled over and called police, and he and another passerby ran over to help.

"We got out and helped the first driver out of his truck," he said. "We broke his window out and got him out of his window; he was okay."

Haywood then ran to the other truck, which sustained severe damage.

"His cab looked like somebody dropped a bomb on his tractor," he said. "It was just splintered — you couldn't tell where the actual tractor was."

Expecting the worst, the two men yelled out to the trapped trucker and heard a faint voice from within the wreckage.

"Somehow that guy survived," Haywood said, adding that the man had been knocked into the floor and the dashboard curved back on him and pinned him to the floor.

"I held his hand until the fire dept got there," he said. "I didn't know if that was going to be his last moment; I didn't want him to be alone."

Emergency personnel arrived and took over the crash scene, but Haywood was glad to have been of assistance that night.

"If that was me, I would hope somebody helps me," he said.
Since the program's inception in August 1997, nearly 1,300 professional truck drivers have been recognized as Highway Angels for exemplary kindness, courtesy, and courage displayed while on the job. Thanks to the program's presenting sponsor, EpicVue, and supporting sponsor, DriverFacts, TCA is able to showcase outstanding drivers like Haywood.