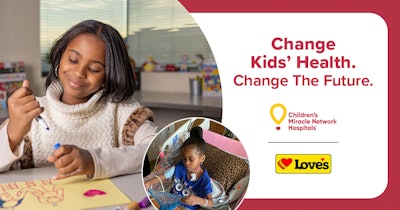 Love's Travel Stops annual fundraising campaign for Children's Miracle Network Hospitals runs from Aug. 25 - Sept. 29 and benefits 116 CMN Hospitals across the U.S.
Customers have a variety of ways to donate. At Love's Travel Stops, Country Stores and Speedco locations, they can purchase a $1, $5 or $20 balloon, round up their change or make a cash contribution. At Love's hotels, teddy bears can be purchased for $19.99, and for National Coffee Day on Friday, Sept. 29, customers can purchase any sized coffee or hot beverage for $1 through the Love's Connect app and all proceeds will go to CMN Hospitals.
Musket Corp. and Trillium Energy Solutions, both part of Love's Family of Companies, will also participate in the fundraising efforts by hosting their annual sponsorship-led Drive for a Child event in October at Topgolf Houston benefiting Texas Children's Hospital.
"Thank you to our team members and customers for stepping up each year and supporting this amazing cause," said Jenny Love Meyer, chief culture officer and executive vice president of Love's. "It's inspiring to see how our team members are committed to asking every customer to donate and how they go above and beyond in coming up with new, innovative, grassroots fundraising ideas."
Donations collected allow CMN Hospitals to help every child receive the best possible care, no matter life's circumstances. Love's was named CMN Hospitals' U.S. Corporate Partner of the Year for its efforts in 2022. The funds raised in 2022 were allocated to member children's hospitals as follows:
26% provided advancement services that support innovative programs and projects.
25% went to improve lifesaving equipment.
23% supported patient services for patients' and families' overall well-being.
12% helped provide charitable care to patients.
7% provided education for patients, families and the community.
7% supported research and treatment for how we care for children.
CMN Hospitals raises funds and awareness for 170 member hospitals that provide 32 million treatments annually to kids across the U.S. and Canada. Donations stay local to fund hospitals in each community. Love's and CMN Hospitals have partnered since 1999 to raise $46 million.