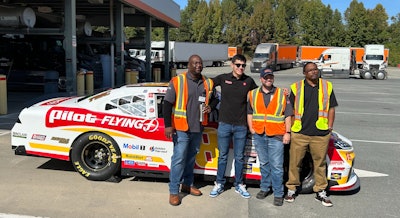 Schneider National
Eleven drivers from Schneider National's Advantage Club had the opportunity to meet with and watch NASCAR's Sammy Smith race his #18 Pilot Flying J car featuring the Schneider logo at the Drive for the Cure 250 presented by BlueCross BlueShield of North Carolina this past weekend. Schneider's drivers had a behind-the-scenes view of race day from the pit area with the Pilot Flying J crew.
Smith finished 11th in the race at the Charlotte Motor Speedway.
Additionally, Smith attended a BBQ at Schneider's Charlotte Operating Center Thursday, Oct. 5. At the event, NASCAR-themed gifts and tickets to the race were provided to Schneider associates. Members of Schneider's maintenance team toured the Joe Gibbs race shop on Friday, Oct. 6.
"We are appreciative to NASCAR and Pilot Flying J for including Schneider in a memorable week and creating an opportunity to thank our drivers for their hard work and commitment to safety," said Schneider Executive Vice President and Chief Administrative Officer Rob Reich.
Schneider's Advantage Club honors drivers who have been with the company for at least three years and have a clean performance record with no safety issues. The group's focus is to celebrate the hard work and dedication that Schneider's drivers display every day and thank them for doing one of the most demanding jobs in the organization.
Pilot Flying J invited Schneider to take part in the weekend's race and host a series of events for the company's associates.