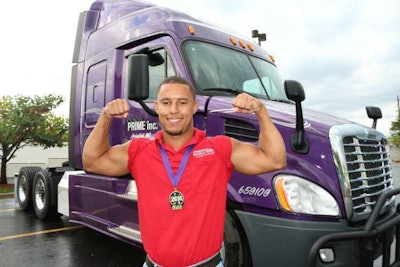 A 27-year-old company driver from Sulfur Springs, Texas can rightfully boast that he's the iron man of one of the country's largest trucking companies.
Randee Lewis won Prime, Inc.'s second annual Fittest of the Fleet competition. The contest was held at the firm's company picnic held Labor Day weekend in Springfield, Mo., where Prime is headquartered.
Lewis, a company driver for the past three years, edged out Rodney McCloud, winner of the inaugural fitness event. Finishing third was Justin Boschee, last year's runner-up.
To be named Fittest of the Fleet, drivers from Prime (16 on Commercial Carrier Journal's Top 250 list) had to complete a series of timed events testing their strength, speed, endurance, agility and athleticism, according to Siphiwe Baleka, Prime's driver fitness coach. Drivers from Bison Transport (68 on the CCJ list) also competed.
Lewis scored 145 points and won two of the three events. McCloud was the winner of one event, finished second to Lewis in two others and was also the only participant to complete all 30 pull-ups.
"The competition was better, tougher and more competitive this year," said Baleka. "The use of 50-foot battle ropes attached to the deer guards and stand-alone pull-up bars were an effective surprise to the drivers, who also carried a 60 lb. sandbag and did a lot of push-ups, burpees, mountain climbers and running."
This year's guest announcer was Pete Thomas, Season Two $100,000 at-home winner of NBC's "The Biggest Loser."
Prime is a major refrigerated, flatbed and tanker trucking company with 3,100 company drivers and 3,400 owner-operators. It had $1.3 billion in income last year.