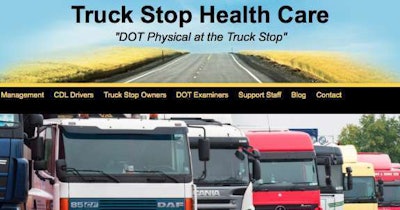 A husband and wife team of physicians from Florida are creating a way for truckers to get their mandatory DOT physical while on the road.
Gunwant S. Dhaliwal, MD, a board certified internist and FMCSA-certified medical examiner and Tejinder Dhaliwal, MD, a board certified anesthesiologist have formed Truck Stop Health Care.
Drivers and/or fleets will be able use the Internet to schedule physicals, which will be performed at participating truck stops.
Truck Stop Health Care plans on sub-contracting with local doctors, chiropractors and nurse practitioners to perform the exams.
Drivers who are found to have medical issues will be referred to their primary care physicians or other providers in the area. The medical examiners will not treat such patients on-site. Where permitted, medical certificates are transmitted to DMV offices.
Truck Stop Health Care say they expect to have 500 participating truck stop locations served in six months by about 100 medical examiners across the country.