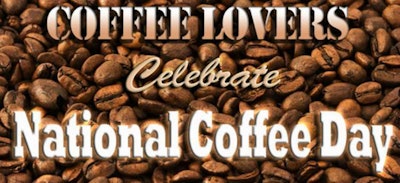 Today is National Coffee Day, the beverage that helps drive many folks who drive for a living.
There have been numerous recent medical studies that say coffee, previously thought to be a cause of health problems, is actually loaded with beneficial effects.
In fact, a study released last year found that truck drivers who drank coffee or other beverages that contained caffeine were 63 percent less likely to be involved in a driving accident than those who didn't.
Other benefits of coffee – aside from just tasting wonderful – include:
* Excellent source of antioxidants
* Helps you burn fat
* Improves physical performance
* Increases your energy level
* Elevates your mood
* Contains essential nutrients
* And, it appears to help lower risks of type II diabetes, depression, Alzheimer's, Parkinson's and some forms of cancer
Fortunately, many places that specialize in keeping us well caffeinated are celebrating what many think should be a national holiday, offering free or reduced priced coffee today.
Pilot Flying J is giving away coffee or cappuccino today with this coupon you can print out.
TA Travel Centers and Petro Stopping Centers offer a free 16 oz. coffee with this coupon all day.
Dunkin Donuts
 is offering a free medium cup hot Dark Roast coffee. Limit one per person at participating locations. From Tuesday Oct. 1 through Sunday Oct. 5, a medium cup of Dark Roast is just 99 cents.
Krispy Kreme 
lets you get free cup of 12 oz. house, decaf or dark roast coffee today. For $1, participating locations will offer a 12 oz. mocha, latte or iced coffee. Limit one per person.
McDonald's offers a free small cup of McCafe coffee during breakfast hours. Limit one per person. All offers are valid at participating locations.
Starbucks
 has a free cup offering for a limited time today. From 10 a.m. to 11 a.m., Starbucks will give away free cups of their Anniversary Blend and Pike Place Roast. Limit one per person.
Tim Horton's offers 
no freebies, but you can get any size cup of coffee for $1 all day today. Limit one per person.
All offers are valid only at participating locations of all these chains.
And, there appears to be a truckers secret to drinking coffee on the road.