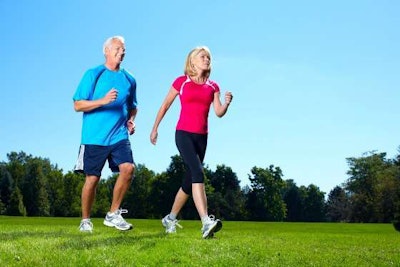 Twenty-eight truckers completed the St. Christopher Fund's (SCF) September driver health challenge, a part of their overall Driven To Be Healthy driver health challenge running through February.
Out of those 28, 11 drivers logged at least 500 active minutes for the month of September. Drivers who successfully completed the September challenge will receive a $25 Kroger gift card for purchasing healthy foods and a free flu shot voucher to use at Kroger of Little Clinic locations.
There are two categories for monthly and overall challenge winners: greatest percentage of weight loss and most active minutes walking/running. The September winners are Brian Keegan, a Windstar driver who lost 6.45 percent of his body weight, and owner/operator Steve Wheeler, who logged 6,063 active minutes.
For October's challenge, SCF is challenging drivers to drink at least 64 ounces of water each day from Oct. 10-31. Drivers who complete the October challenge will receive a Driven To Be Healthy water bottle.
With the small monthly challenges as part of the larger Driven To Be Healthy, SCF hopes to create an environment for drivers to achieve success and continue to work towards a healthier lifestyle, said SCF Communications Manager Julie Dillon.