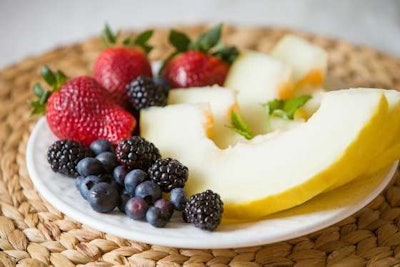 New research from the American Heart Association (AHA) has found eating three or more servings of fruit and vegetables each day may lower your risk of developing peripheral artery disease (PAD).
PAD is a narrowing of the peripheral arteries to the legs, stomach, arms, and head – most commonly in the arteries of the legs, according to the AHA. It says, "Peripheral artery disease happens when fatty deposits build up in arteries outside the heart, usually the arteries supplying fresh oxygen and blood to the arms, legs and feet."
Researchers studied data from 3.7 million people and found:
People who reported eating three or more daily servings of fruits and vegetables had 18 percent lower odds of PAD than those reporting eating less.
When stratified by smoking status, the association of lower PAD and increased fruits and vegetables was present only among participants who were current or former smokers.
Overall, 6.3 percent of participants had PAD and 29.2 percent reported eating three or more servings of fruits and vegetables daily.
Previous research has shown that eating lower amounts of fruits and vegetables can increase risk of coronary heart disease and stroke, but not as much has been previously known about how consuming more of those foods can impact PAD risk.
"Our current study provides important information to the public that something as simple as adding more fruits and vegetables to your diet could have a major impact on the prevalence of life-altering peripheral artery disease," said Jeffrey Berger, study coauthor and associate professor of medicine and surgery at New York University School of Medicine in New York City.
So how can you add more fruits and vegetables to your diet?
For breakfast, the AHA says you can eat melon, grapefruit or other fruit. You can also add bananas, raisins or berries to your cereal. If you aren't a fan of fruit textures, you can drink a 6-ounce glass of juice, but make sure it is 100 percent fruit or vegetable juice and does not contain added sodium and sugars. Avoid juices that label themselves as "fruit drink," "cocktail" or "punch." The AHA also recommends adding chopped up vegetables to your eggs or potatoes, such as onions, celery, green or red bell peppers or spinach.
The AHA recommends the following ways of adding more fruits and vegetables to your lunch: Have a fruit or vegetable salad with your lunch, put vegetables on your sandwich (such as cucumber, sprouts, tomato, lettuce or avocado), eat a bowl of vegetable soup, and/or have a piece of fruit or raw veggie sticks instead of chips.
For dinner, you can have a fruit or vegetable salad with your meal. You can add a side of steamed or microwaved vegetables, and the AHA says frozen vegetables are fine. If you're using your oven to cook, the AHA says to put in a whole potato, sweet potato or yam at the same time. You can also add chopped vegetables such as onions, garlic, and celery to soups, stews, beans, rice, or vegetable-based sauces.
When you're snacking throughout the day, snack on raw veggie sticks from green or red bell peppers, green beans, celery or carrots. Dried fruit, like raisins, dates or apricots, are easily transportable. Any type of fresh fruit also makes a suitable snack. During hot summer days, you can snack on a bowl of frozen fruits or vegetables, like grapes, peas and bananas.