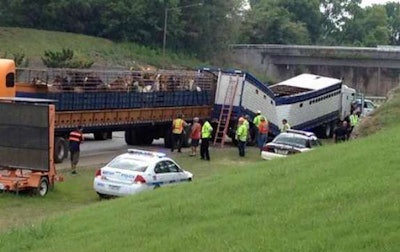 Two former Tennessee trucking company owners pleaded guilty late last month to violating shutdown orders issued by the Federal Motor Carrier Safety Administration (FMCSA) in a reincarnated carrier scheme conducted in 2012 and 2013.
Dorian Ayache, owner and operator of Three Angels Farms in Lebanon, Tenn.; and Theresa Vincent, owner and operator of Terri's Farm in Murfreesboro, Tenn., pleaded guilty to criminal charges in continuing to operate a horse transporting company after FMCSA shut down the carrier with an imminent hazard out-of-service order.
The agency issued Three Angels Farms and Ayache an IHO in June 2012, after the agency determined the carrier did not adequately maintain his vehicles, did not comply with hours-of-service limits and did not drug test his drivers. FMCSA also said the carriers' poor safety practices led to two accidents that resulted in the deaths of four horses being transported by the carrier.
Ayache then criminally violated the IHO, the DOT said, by continuing his operation under the name and authority of Terri's Farm. The agency says Terri's Farm was nothing more than a reincarnation of Three Angels.
The two also tried to conceal and destroy email communication between one another, and Vincent lied while testifying to a grand jury about her connection to Ayache, the DOT said.