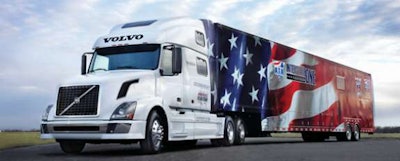 The American Trucking Associations this week named 32 drivers as finalists in the selection process for the captains of the 2015-2016 America's Road Team.
America's Road Team, sponsored by Volvo, is a group of drivers with superior safety records that represents the trucking industry, to bolster the industry's image.
The 32 finalists for captains of the next Road Team move on to the final round of the selection process, which will be held in January in Arlington, Va.
A panel of industry officials and trucking press will judge the contestants on their knowledge of the industry, dedication to safety, ability to communicate the industry's messages and overall safe driving record, ATA says.
The new captains will be named Jan. 14.
The finalists include:
Paul D. Brandon, Fed Ex Freight, Oxford, Conn.
Henry Bruster, UPS Freight, Woodville, Miss.
Richard Buitrago, Con-way Freight, Kissimmee, Fla.
Gary Lee Capps, UPS Freight, Grantsville, Utah
Kenneth J. Clark, YRC Freight, Desoto, Mo.
David Conkling, Werner Enterprises, Metairie, La.
Charles E. Demchock, II, Walmart Transportation, Cocoa, Fla.
Eric Flick, FedEx Freight, Dayton, Nev.
David Green, Werner Enterprises, Hot Springs, Ark.
Neil Kirk, Penske Logistics, Middletown, N.Y.
Randall Luschen, Weinrich Truck Line, Inc., Merrill, Iowa
Clarence Wilburn Lyons YRC Freight, Halton City, Texas
Thomas McIntosh, YRC Freight, Aurora, Colo.
John McKown, UP Freight, East Berlin, Penn.
Tim W. Melody, ABF Freight System Inc., Payette, Idaho
Chad Miller, ABF Freight System, Inc., Crown Point, Ind.
Bill Minor, Con-way Freight, West Milwaukee, Wis.
Brent Quire, Con-way Freight, New Albany, Ind.
Eric Ramsdell, Walmart Transportation, Whitmann, Ariz.
Terry Rankins, Weinrich Truck Line, Inc., Tollesboro, Ky.
Paul Savill, UPS Freight, Hamilton, Ohio
Gary Schmidt, Cliff Viessman, Inc., Fergus Falls, Minn.
Russell Simpson, Holland, Inc., South Vienna, Ohio
Danny Smith, Big G Express, Inc., Shelbyville, Tenn.
Clarence Taylor, Walmart Transportation, North Chesterfield, Va.
Stanley J. Thrasher, Danny Herman Trucking, Inc., Boaz, Ala.
Brian K. Turner, Old Dominion Freight Line, Newport, Tenn.
Tim Vogt, Con-way Freight, Loganville, Ga.
Kirk Weis, ABF Freight System, Inc., Rio Rancho, N.M.
William West, ABF Freight System, Inc., Roopville, Ga.
Derrick Whittle, Cargo Transporters, Inc., Fieldale, Va.
Scott D. Woodrome, FedEx Freight, Middletown, Ohio