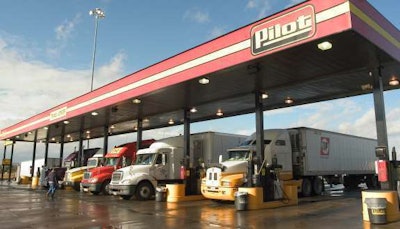 Truckers and others stopping at Pilot Flying J travel centers and travel plazas will find some new amenities including a healthier menu, upscaled coffee drinks and improved showers and restrooms.
To make healthy food choices more readily available, Pilot Flying J says select locations now feature PJ Fresh Marketplaces with fresh and healthy meal choices including home-style meatloaf and roasted chicken. Additionally, Pilot and Flying J locations feature coffeehouse-quality beverages, such as "The Best Coffee on the Interstate," in eight flavors; cappuccino; iced coffee and hot chocolate.
Shower upgrades include larger showers, improved lighting, Italian tile, additional hooks to hang and store personal items and custom-designed benches for seating, according to a statement from the company. New restroom features include new tile finishes, low water consumption fixtures including toilets and faucets, touchless hand dryers and LED light fixtures.
Pilot Flying J is spending $100 million on the improvements.
"Providing convenience, quality and outstanding customer service is the cornerstone of our mission, said Whitney Haslam Johnson, director of Brand and Customer Experience at Pilot Flying J. "Our primary goal is to always serve our customers with excellence, so when they asked for upgrades to our facilities and healthier food options, we were happy to deliver."
To promote the changes, Pilot Flying J offers a "behind-the-scenes" look into the travel experience of a variety of bloggers and personalities. The Travel Well campaign will kick off Monday, Nov. 3 and run through Thanksgiving.
Documenting their travels and visits to Pilot Flying J will be Pete Thomas from NBC's Biggest Loser, NASCAR driver Michael Annett, and bloggers Mommy Katie, Just Short of Crazy and The Vacation Gals.
The company expanded its network of stores this year, opening 11 new stores and expanding its fuel network to an additional 18 locations.With more than 650 stores, Pilot Flying J is the largest operator of travel centers and travel plazas in North America.