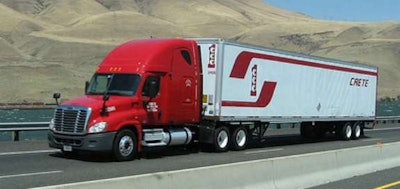 Crete Carrier and Shaffer Trucking announced a pay increase for their drivers recently.
Effective Jan. 1, Crete national over the road drivers will receive a $.02 per practical mile increase, resulting in an 11 percent increase in the overall pay package. When combined with an over 2 percent increase in miles, drivers will be earning more than 13 percent over the previous year, according to a statement from the company.
Shaffer Trucking is increasing pay by $.04 per practical mile. Over the previous year, Shaffer has increased the overall pay package by more than 17 percent and increased paid miles by more than 4 percent. Truck drivers for Shaffer Trucking will now be earning over 21 percent more over the previous year, the statement said.
"In addition to increasing driver pay rates, we are experiencing much stronger demand for our services which has also resulted in nearly a 5 percent increase in miles for our drivers," said Tonn Ostergard, president and CEO of Crete.
Crete Carrier and Shaffer Trucking are adding more than 1,500 new Freightliner Cascadias this year.