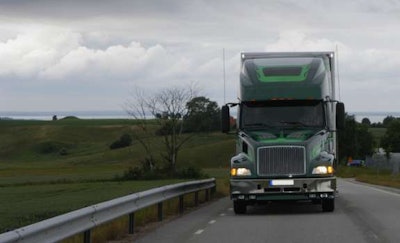 Several trucking industry groups offered their support over the weekend for a provision that would, if included in a looming bill in Congress, suspend two key provisions of hours-of-service rules for truck drivers, along with requiring the Federal Motor Carrier Safety Administration (FMCSA) to provide more scientific justification for the restart provisions.
A large omnibus spending bill is expected to be unveiled early this week, and it's expected to include the so-called Collins Amendment (introduced earlier this year by Senator Susan Collins, R-Maine) as a bill "rider."
The rider, deemed to be a controversial one for lawmakers working on the bill, would suspend the requirement that a truck operator's hours restart include two 1 a.m. to 5 a.m. periods. It also would remove the once-per-week limit of the use of the restart.
Major trucking groups like the American Trucking Associations (ATA), the Owner-Operator Independent Drivers Association (OOIDA), the Truckload Carriers Association (TCA) and trucking associations in all 50 states — along with dozens of other industry associations, says ATA — support the inclusion and passage of the Collins Amendment in the omnibus plan.
ATA says the amendment would give the industry "needed relief from unjustified and risk-raising regulations."
"This isn't a rider being added in the middle of the night at the 11th hour as some would have the public believe. This reasonable solution allows the government to do the research it should have done ahead of time and gives the industry the flexibility thousands of fleets and millions of drivers are pleading for," said ATA President & CEO William Graves.
Likewise, the OOIDA is asking its members to send letters to members of Congress to drum up support for passage of the bill with the restart rollback included.
OOIDA notes in its letter that in a membership survey conducted last year, 46 percent of respondents said they felt more fatigued since the new rules took effect in July 2013 and 65 percent said they were earning less money.
Respondents also said they had less time at home and more stress, OOIDA says.
A stay of the rules, OOIDA says in its letter, "is the approach that [FMCSA] should have taken the first time, and Senator Collins' language is the best way to examine these issues."
Current restart rules, OOIDA says, "not only have a negative impact on efficient freight movement, but it results in more trucks on the road at the busiest times of the day."
The TCA also offered its support this weekend for the Collins Amendment, saying it is a "commonsense timeout provision" and urging its members to contact their representatives in Congress to push for support for the measure.
In the sample letter sent to its members, TCA says "failing to include the Collins Amendment will negatively impact highway safety and freight productivity."
ATA VP Chris Spear discusses the need for the Collins Amendment