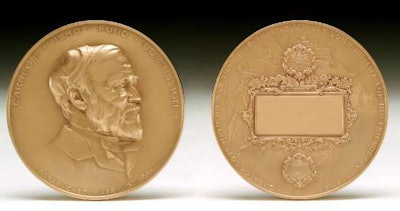 The Carnegie Hero Fund Commission is the latest organization to honor a truck driver who risked his life to save a law enforcement officer who was being attacked by a prisoner in his custody.
Clinton D. Blackburn rescued Darrell L. Herndon from assault along the Bluegrass Parkway near Elizabethtown, Ky., March 12, 2014. For this, he was honored by Goodyear earlier this year.
The medal is given throughout the United States and Canada to those who risk their lives to an extraordinary degree while saving or attempting to save the lives of others. Thirty-eight such heroes have been honored so far this year, and 9,775 since the medal's inception in 1904.
Here is how Blackburn's act of heroism was described by the commission:
"Clinton D. Blackburn rescued Darrell L. Herndon from assault, Bardstown, Kentucky, March 12, 2014.
"A jailer, Herndon, 56, was transporting a male prisoner in a police cruiser when the prisoner, who was in the back seat, slipped from his handcuffs and partially entered the vehicle's front-seat area through a small opening in the passenger compartment partition. Extending an arm around Herndon's neck, the prisoner began to choke him, but Herndon was able to maintain control of the vehicle as he pulled it from the highway partially onto the grass median.
"Approaching the scene from the opposite direction, Blackburn, 44, truck driver, saw Herndon's vehicle lurch from the highway and come to an abrupt stop, and he then witnessed the assault. Blackburn pulled his truck off the highway, exited, and ran to the driver's side of the police cruiser. By then, the assailant had completely entered the front-seat area and was continuing to choke Herndon.
"Partially entering the vehicle, Blackburn pushed the assailant away from Herndon, breaking his chokehold, but the assailant then removed Herndon's gun from its holster and threatened to kill them both. Blackburn grabbed the barrel of the gun and struggled against the assailant for control of it as Herndon dropped from the vehicle to the ground.
"Able to twist the gun from the assailant's grasp, Blackburn held him at gunpoint until Herndon recovered and secured him. Herndon sought hospital treatment for minor injury, and Blackburn sustained bruising and a cut. Both recovered."
Commission Chair Mark Laskow stated that each of the awardees or their survivors will also receive a financial grant. Throughout the 111 years since the Fund was established by industrialist-philanthropist Andrew Carnegie, $37.2 million has been given in one-time grants, scholarship aid, death benefits, and continuing assistance.