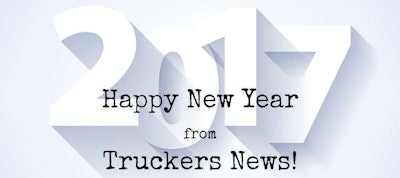 Another year is all but in the books.
American truck drivers have once again logged millions of miles, delivered billions of tons of freight and spent countless hours away from their homes and families to keep the economy humming.
And, they'll do it again in 2017.
Truckers News has revisited the year that is ending. Here's our coverage of 2016 in review:
16 most memorable stories from 2016
Revisit the 10 most read stories on Truckers News in 2016
Top 10: See the most-watched trucking videos of 2016
Podcast: 2016 record year for Love's; 2017 even more
So wherever you are when the clock strikes midnight tonight, may 2017 get off to a good start and then only get better as it unfolds.
Happy New Year from Truckers News.