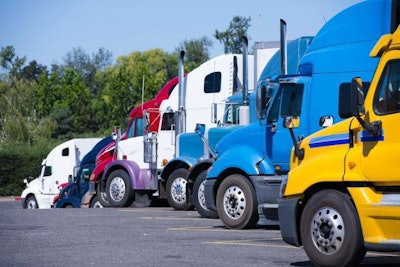 There are over 141 million trucks on the road, but they aren't divvied up evenly among the states. Some states have more, some states have less.
According to 2015 registration statistics from the Federal Highway Administration, California was the frontrunner in 2015 with over 14 million trucks. Texas followed as a close second with over 12 million trucks.
Bringing up the rear is Washington, D.C. with just 113,380 trucks. Vermont had the least amount of trucks with 370,267.
Is your state on either of these lists? How does it compare?
States with the most trucks in 2015:
1. California: 14,037,539 (Private and commercial: 13,764,7340)
2. Texas: 12,959,672 (Private and commercial: 12,787,563)
3. Florida: 7,737,069 (Private and commercial: 7,608,030)
4. Pennsylvania: 5,469,688 (Private and commercial: 5,400,602)
5. Illinois: 5,438,857 (Private and commercial: 5,380,864)
6. New York: 5,384,766 (Private and commercial: 5,321,177)
7. Ohio: 5,376,620 (Private and commercial: 5,312,365)
8. Michigan: 4,651,312 (Private and commercial: 4,606,397)
9. Georgia: 4,371,050 (Private and commercial: 4,294,116)
10. North Carolina: 4,269,130 (Private and commercial: 4,201,219)
States with the least trucks in 2015:
1. District of Columbia: 113,380 (Private and commercial: 99,240)
2. Vermont: 370, 267 (Private and commercial: 364,804)
3. Rhode Island: 393,813 (Private and commercial: 385,887)
4. Delaware: 493,740 (Private and commercial: 489,557)
5. Wyoming: 575,641 (Private and commercial: 571, 696)
6. Alaska: 586,381 (Private and commercial: 568,936)
7. North Dakota: 601,572 (Private and commercial: 588,530)
8. Maine: 625,322 (Private and commercial: 617,305)
9. South Dakota: 654,733 (Private and commercial: 637,389)
10. Hawaii: 682,808 (Private and commercial: 668,057)