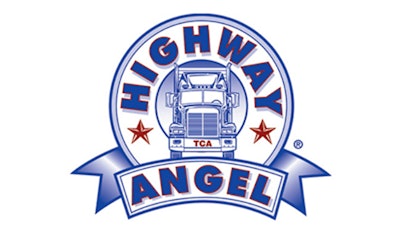 A company driver has been recognized for his heroism last summer when he rescued a man who was having a stroke as he drove along an interstate in Colorado.
Jerry Ginter, a driver for CFI, based in Joplin, Missouri, has been named a Highway Angel by the Truckload Carriers Association.
The TCA said that on August 24, 2016, at 6:30 p.m., Ginter was driving eastbound on Interstate 70, near Denver when he approached some roadwork. He noticed a seemingly distressed Suburban coming towards him in the eastbound lane. Ginter put on his flashers to warn the drivers behind him. Just then, the suburban stopped in the middle of the highway, and a woman exited the passenger side of the vehicle, ran to Ginter's truck, and explained that the driver had had a stroke.
Ginter then saw the Suburban begin to move again, heading straight towards his tractor-trailer so he jumped from his truck and ran to the oncoming vehicle. Inside the car the driver unconscious with his foot on the accelerator. Ginter opened the driver's door and began running alongside the vehicle trying to shift the car into park and to remove the keys. The situation worsened when the driver regained consciousness and, still dazed, thought that Ginter was trying to harm him, according to the TCA.
"I was trying to get the keys away to prevent him from leaving and he was trying to drive away," said Ginter.
Another driver was able to maneuver into the passenger side, and together they were able to stop the vehicle and remove the keys.
Ginter moved the Suburban and his tractor-trailer to the shoulder to give an ambulance space to reach them in the construction zone. An ambulance that was on its way back to Kansas from transferring a patient to Colorado heard about the incident on their radio and stopped to assist. The victim and was later treated at a local hospital.
Ginter has been driving for 17 years and has accrued more than two million accident-free miles. When asked about this incident he said, "It could have turned into a bad situation, but luckily I realized what was going on and was able to back out of the situation. It was a busy 45 minutes, but I am more than happy to have helped out."
For his willingness to help others, TCA has presented Ginter with a certificate, patch, lapel pin, and truck decals. CFI also received a certificate acknowledging Jerry Ginter as a Highway Angel.
EpicVue sponsors TCA's Highway Angel program.