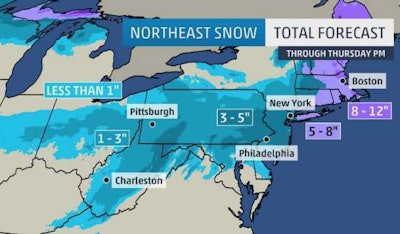 If your driving takes you along the northern stretch of the I-95 corridor tonight through Thursday, you'll want to be prepared for some bad winter weather.
The National Weather Service has issued a winter storm watch for an area from Baltimore and Washington, D.C. up the East Coast to southern New England. From 6 to 12 inches of snow is expected to fall tonight through Thursday with winds causing blowing and drifting.
The storm is expected to effect regions as far west as Harrisburg and Scranton, Pennsylvania and Pittsfield, Massachusetts.
A report on The Weather Channel said this winter storm could cause significant travel troubles for the major metro areas of Philadelphia, New York City, Long Island and Boston. The New York metro area is expected to get the worst of the storm.