Major winter storms in one state and problems with a dam in another have led to adjustments in hours-of-service regulations for some truck drivers.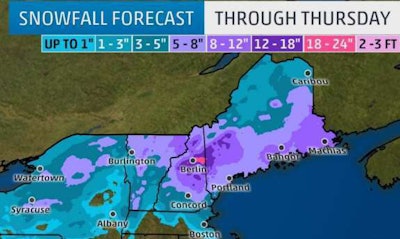 The New Hampshire Department of Safety Monday, Feb. 13 issued an emergency declaration due to heavy snow storms and falling temperatures. This triggered an exemption for certain truckers from hours-of-service regulations.
The National Weather Service is forecasting more snow tonight and Thursday, Feb. 16 for New England.
Any carriers delivering home and business heating fuels in New Hampshire are exempt from hours-of-service regulations through Feb. 27, per the declaration. The exemption also applies to truckers transporting products to local propane and natural gas delivery companies.
On the West Coast, California Gov. Edmund G. Brown Jr. issued an emergency declaration as a result of a problem with the Oroville Dam north of Sacramento. Nearly 200,000 people in the area have been evacuated.
Excessive rain around Sacramento over the last week caused Lake Oroville to reach capacity. Officials used two spillways to release water, but both are in danger of failing, which would cause flooding.
The emergency declaration suspends hours regulations for carriers assisting in relief and damage repair efforts.