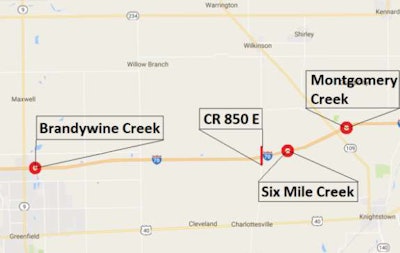 You need to be aware of some overnight lane closings if you're traveling I-70 in Indiana next week.
A seven-bridge construction project on I-70 east of Indianapolis begins Monday, April 17, according to the Indiana Department of Transportation.
IDOT says drivers should expect overnight lane closures in construction zones at the bridges in the map above beginning on or after April 17 between 9 p.m. and 6 a.m. During these hours, crews will be setting temporary concrete barriers and paving shoulders to prepare for traffic shifts as the projects progress.
The first project will begin April 19 at the twin bridges over Six Mile Creek on I-70 near mile marker 112, which will be rebuilt as part of the project.
At Brandywine Creek, bridges will be repaired and preserved in each direction. IDOT will conduct the repairs in two phases – one beginning in May, and the other beginning in August.
Finally, IDOT will repair and preserve two brides at Montgomery Creek beginning in June. In each of the three construction zones, two lanes will be maintained in both directions except during the overnight lane closures.
Additionally, the Hancock County Road 850 East bridge over I-70 will close in May, which will cause traffic to be detoured from CR 850 to CR 600.