On the heels of several high-profile incidents in other countries, the Transportation Security Administration is warning that terrorists could use trucks as weapons in this country too. The federal agency made suggestions of what transportation organizations, fleets and drivers could do to combat such attacks in this country.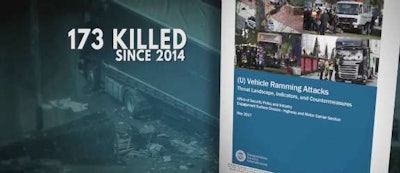 In the document titled Vehicle Ramming Attacks: Threat Landscape, Indicators and Countermeasures, the TSA listed 17 "terrorism inspired vehicle ramming attacks," including three this year. In the most recent one, four people were killed and 15 were injured in Stockholm, Sweden.
The TSA said the cautionary information was shared with truck and bus companies, trade associations, the school bus industry and highway and infrastructure specialists.
Carriers and drivers were warned to maintain "a high level of alertness," and report suspicious activity to authorities. The TSA also suggested, among other things:
parking trucks in secure locations
ensuring vehicles are locked
refusing rides for hitchhikers and other strangers
ensuring route compliance of drivers.