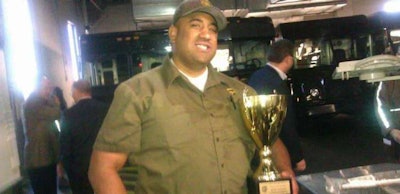 UPDATE: San Francisco Police have identified the shooter in yesterday's attack at a UPS facility in that city, as well as the three other drivers he shot and killed.
The shooter, who shot himself as police closed in, was Jimmy Lam, 38, according to SFPD.
The three fellow drivers he shot and killed were:
Benson Louie, 50
Wayne Chen, 56
Michael Lefiti, 46
What follows is our original story:
A veteran driver was among four people who died in a shooting at a UPS San Francisco shipping warehouse Wednesday morning.
San Francisco Police say a uniformed UPS worker fatally shot three coworkers — including Mike Lefiti, who had driven for UPS for more than 16 years, according to family members — before using the gun to kill himself. Two others were wounded by gunfire, police said. The company confirmed that all of the victims and the shooter were employees.
Police did not identify the shooter or offer a motive for the shooting.
Media reports say the shooting occurred at about 9 a.m. during the drivers' morning meeting around the time of a shift change.
UPS said the facility is an area package sorting hub and package delivery center.