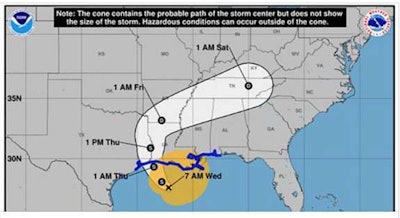 Tropical Storm Cindy is expected to continue to deliver more than a foot of rain along a section of Interstate 10 and the northern Gulf Coast for the next several days.
The National Weather Service predicts the storm will track from the Gulf of Mexico to as far north as Tennessee between now and Saturday afternoon. The weather service warns the storm could drop between 6 and 12 inches of rain and cause what it calls "life-threatening flash flooding."
Major populations centers that could be most severely affected include:
Baton Rouge
Beaumont, Texas
Biloxi, Mississippi
Gulfport, Mississippi
Houston
Lake Charles, Louisiana
Mobile
New Orleans
Pensacola, Florida
Port Arthur, Texas
The governors of Texas, Louisiana and Alabama have all declared states of emergency.
Alabama Gov. Kay Ivey and Louisiana Gov. John Bel Edwards issued emergency declarations Tuesday, June 20. The declaration of emergency suspends certain regulations for truckers responding to the emergency, including hours-of-service regulations.
The temporary suspension of regulations only applies to drivers providing "direct assistance" to restore services such as power, sewer, water and telecommunications, or bringing supplies such as feed, food and fuel to the affected areas, according to Federal Motor Carrier Safety Administration spokesperson Duane DeBruyne.