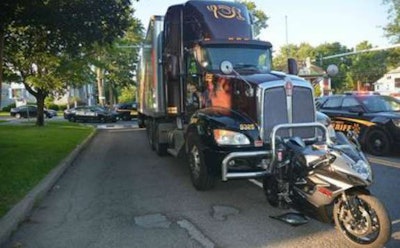 A tractor-trailer driver struck a motorcycle and pushed it — with its rider trapped onboard — about 150 down a street in an Upstate New York city Tuesday without even knowing it.
Syracuse.com reports that the truck driver, John Ries, 63 of Rochester, New York, did not see the 2006 Suzuki and its driver, 26-year-old Steven McGill of Brewerton, New York in front of him when began to travel after a traffic light turned green. The motorcycle was caught under the front bumper of Ries' truck as he drove down the street.
It wasn't until another motorist alerted Ries to the problem that he stopped.
McGill suffered minor injuries and was transported to a hospital in nearby Syracuse. He was ticketed for operating out of class, according to the Onondaga County sheriff's department. Ries was ticketed for following too closely.