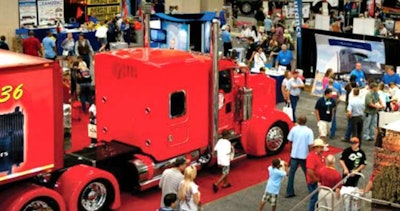 August is truck show month. The annual Great American Trucking Show will return to Dallas Aug. 24-26, and other truck shows are scattered throughout the month.
This year GATS is in a newer section of the Kay Bailey Hutchinson Convention Center, Halls A-E. The newer halls offer over 500,000 square feet of exhibit space for hundreds of exhibitors.
The Landstar Health and Wellness Pavilion returns and offers free services such as eye screenings, medical consultations, nutrition evaluations, mammograms and more. Cooking and exercise demonstrations will take place on the Health Pavilion stage.
The Recruiting Pavilion will feature carriers from across the U.S. who are looking to hire new drivers. Drivers can search the GATS database ahead of the show to see which recruiters will be present.
A full list of exhibitors and events is available on the GATS site.
Registration: Registration is free online in advance of the show. Anyone can register to attend. Registration at the show will be $10 per person.
Show Dates: GATS is open Aug. 24 from 11 a.m. – 12 p.m. for VIP, Aug. 24 from 12-5 p.m. for general attendees, Aug. 25 from 10 a.m. – 5 p.m., and Aug. 26 from 9 a.m. – 4 p.m.
Parking: Free truck parking is available in the TA Petro Truck Parking Community, located at 3013 S Haskell Ave., Dallas, Texas, 75322. The lot is five miles from the convention center and GATS is providing free shuttles to and from the TA Truck Parking Community during show hours. The truck parking area will have nightly concerts, food vendors, shower trailers, and pet grooming services. A Pet Parade will take place at the TA Petro Truck Parking Community Aug. 26 at 5 p.m.
Here's everything else coming up in August:
Aug. 4-6: Carlisle Truck Nationals and the Big Rig Show and Shine in Carlisle, Pennsylvania
Aug. 4-6: Shiawassee County Fair Truck Show at Shiawassee County Fairgrounds in Owosso, Michigan
Aug. 5: Lebanon MO Truck Show & Shine at Lebanon First Assembly Church in Lebanon, Missouri
Aug. 9-12: National Truck & Step Van Driving Championships
Aug. 10-13: 18th Annual National Brockway Truck Show in Downtown Cortland, New York
Aug. 11-12: Waupun Truck-n-Show in Waupun, Wisconsin
Aug. 13: ATCA Mid Hudson Chapter 14th Annual Truck Show at Ulster County Fairgrounds in New Paltz, New York
Aug. 19: Back to the Bricks Truck Show in Flint, Michigan