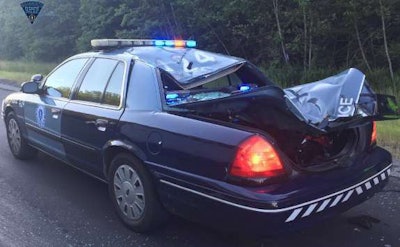 The Massachusetts State Police need some help finding a truck involved in a strange accident on I-84 Monday, July 31.
According to the Facebook post below, a set wheels and tires broke loose from a tractor/trailer and struck one of their patrol cars that was park along side the highway in Sturbridge. The police say the truck in question continue eastbound on I-84.
There were no injuries in the incident, which occurred at about 5:30 a.m.
If you saw anything that might be helpful, call Trooper Scott Shea at the State Police Sturbridge Barracks at 508-347-3352.