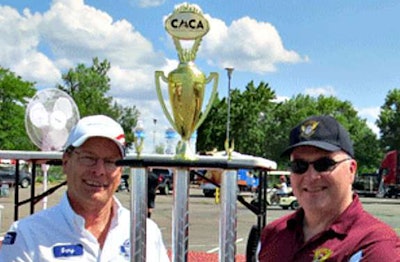 This week more than 420 of the trucking industry's top truck drivers gather in the Orange County Convention Center in Orlando, Florida for the 80th annual National Truck Driving Championships and National Step Van Driving Championships.
The championships open Wednesday, Aug. 9, with competitors taking a walk-through of the driving course and registering for the different classes. Competitors will then compete in three phases of competition:
a written examination testing background knowledge of rules and procedures pertinent to the trucking industry
a vehicle inspection to test competitors' ability to detect vehicle malfunctions
a driving skills test where competitors are graded on their ability to operate a truck through a series of obstacles.
Over four days, 428 competitors from all 50 states, including 35 first-time participants, representing 97 companies will compete for honors in one of eight different classes.
The competition concludes on Saturday, Aug., 12 with the announcement of the National Truck Driving Championships Bendix Grand Champion, along with the winners of each vehicle class and awards for the top performing state delegation, rookie of the year, and other recognitions.