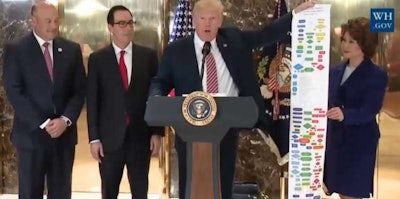 President Donald Trump Tuesday signed an executive order he said would "dramatically reform the nation's badly broken infrastructure permitting process" and "deliver the world class infrastructure" he said the country deserves.
The president did not offer any specifics about infrastructure projects or funding during the press event at his Trump Tower in New York City. In the past, the administration has touted a plan that uses $200 billion in government money over 10 years to help spur $1 trillion in public and private infrastructure spending.
Flanked by Transportation Secretary Elaine Chao, National Economic Council Director Gary Cohn and Treasury Secretary Steven Mnuchin Trump said, "My administration is working every day to deliver the world-class infrastructure that our people deserve and, frankly, that our country deserves." He went on to compare the state of America's infrastructure to that of a third world country, and blamed it in part on regulatory reviews.
"The over-regulated permitting process is a massive, self-inflicted wound on our country. It's disgraceful," Trump said.
At one point in Tuesday' event Trump held up a giant flowchart in front of Chao to illustrate how many agencies and steps are involved in approving a highway project. He then held up a much shorter chart to show what the process will look like after his executive order.
"I'm going to show it to the media, both real and fake media," he said. "This is what it takes to get something approved today … and this is what we will bring it down to. This is less than two years. This is going to happen quickly. Let's throw the other one away."
Trump added, "We're going to get infrastructure built quickly, inexpensively, relatively speaking, and the permitting process will go very, very quickly. No longer will we tolerate one job killing delay after another. No longer will we accept a broken system that benefits consultants and lobbyists at the expense of hardworking Americans."
One national organization Tuesday weighed in on Trump's plan, which many have said will require tolls to repay and generate profits for private investors.
"A reduction in bureaucratic red tape and permitting can allow us to more quickly start working on improving our infrastructure — something everyone can agree needs to happen," said Stephanie Kane, spokesperson for the Alliance for Toll-Free Interstates. "Cutting red tape reduces project costs, thus allowing states to avoid having to rely on alternative revenue sources like tolls. Tolls are counterintuitive to building a lasting transportation network.
"If President Trump truly wants to stop 'denying people needed investments in their country['s infrastructure],' he will reject tolls in his infrastructure plan. Tolls are the worst funding mechanism available and are a highly inefficient use of funds, as a significant portion of every dollar collected — typically 12-20 percent even with all-electronic tolling — goes to administrative costs and to private sector profits rather than building and repairing roads."
Trump's announcement comes about a week after Connecticut Rep. John Larson (D-01) announced a $1 trillion proposal to rebuild the nation's infrastructure over the next decade.
Larson's America Wins Act, which he announced Aug. 8, provides $1 trillion over 10 years to invest in roads, bridges, tunnels, transit systems, rail, airports, clean drinking water, levees, broadband, and energy transmission. It does not utilize private investment like Trump's plan.
In a statement about the America Wins Act, Larson said, "This bill is fully paid without adding to the national debt. The America Wins Act is estimated to raise $1.8 trillion in total over 10 years through an upstream tax on the carbon-content of fossil fuels such as coal, oil, and natural gas. All of the revenue raised will be placed in a trust fund, administered by US Treasury, in order to be solely used for investing in the nation's infrastructure, providing the American people with a consumer tax rebate, and dedicated funding for carbon-intensive industries such as coal workers."