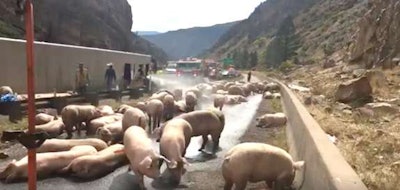 The westbound lanes of Interstate 70 near Glenwood Springs, Colorado were closed for nearly six hours Monday afternoon and evening as crews corralled some 100 pigs that escaped a tractor/trailer that overturned.
Glenwood Springs police, Colorado Department of Transportation and others rounded up the pigs and herded them onto an adjacent bike path.
The truck driver, who was not identified by police, was taken to a nearby hospital.
Five pigs died in the crash.