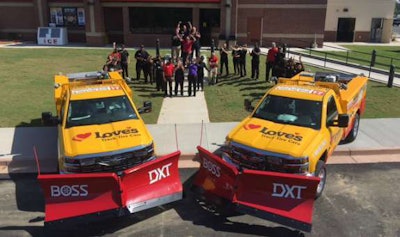 Love's Travel Stops Thursday opened a new store in Talleysville, Virginia about 20 miles east of Richmond off of Interstate 64 at Exit 211.
The Talleysville store marks Love's ninth travel stop in Virginia. It features:
86 truck parking spaces
seven showers
Arby's restaurant
game room
public laundry facilities
Love's Truck Tire Care
"We're happy to offer services to professional drivers in a big area of need," said Greg Love, co-CEO of Love's. "Talleysville is in a great location along Interstate 64 connecting the coastal cities, including Virginia Beach, Norfolk and Newport News with Richmond and points beyond. We look forward to providing drivers with the 'Clean Places, Friendly Faces' Love's is known for to a new area of Virginia."
Love's Travel Stops & Country Stores has more than 430 locations in 41 states.