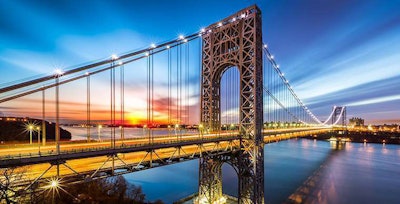 Two individuals were arrested Monday morning on the George Washington Bridge, which connects Manhattan to New Jersey, for skipping over $62,000 in tolls.
Rigoberto Cardenas, 39, of Morristown, New Jersey, was driving a dump truck that had its E-ZPass suspended for over 500 violations. Police arrested Cardenas after he drove the truck through a toll lane on the bridge without paying around 9 a.m. Cardenas was charged with theft of service, toll evasion and failure to observe toll signs, reports the New York Daily News.
Fadia Garcia, 46, of Rockaway, the vehicle's owner, was arrested for theft of service when she came to claim the truck.