Pilot Flying J recently announced a partnership with Food Donation Connection, an organization that works to help food service companies feed those in need while reducing food waste.
Through the Harvest Program, Pilot Flying J will donate surplus food items to local non-profits and food banks to help families facing hunger. This nationwide initiative between the two Knoxville-based companies will combat hunger in areas where Pilot Flying J is located, and aims to surpass their 2017 goal with more than 200,000 pounds of food donated in 2018.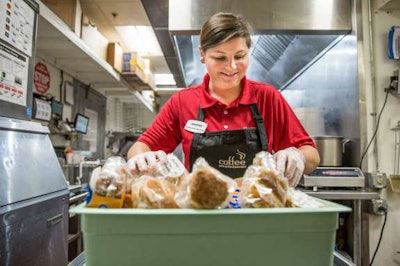 "Food Donation Connection is proud to partner with Pilot Flying J to strengthen their commitment to helping their local communities," said Keith Crowe, project manager at Food Donation Connection. "All qualifying unserved food can now be donated to charities, local to Pilot Flying J travel centers throughout the U.S. This program will help feed those in need and will divert wholesome food from the waste stream – creating a win-win for all involved."
Pilot Flying J team members "harvest" fresh, surplus food – such as pizza slices, burgers and breakfast sandwiches – and safely prepare and freeze it for donation to local food banks and shelters across the country.
Since the Harvest Program's inception in February 2017, Pilot Flying J has already donated more than 172,500 pounds of surplus food to more than 161 charitable agencies in Alabama, Georgia, Illinois, Indiana, Kentucky, Missouri, Ohio and Texas. The company currently has 88 locations participating, and plans to expand the program to between 150-200 locations by the end of 2018.
"Pilot Flying J serves more than 1.2 million customers across North America each day, and we can serve so many more through effective food donations with the Harvest Program," said Will Haslam, director of Giving for Pilot Flying J.