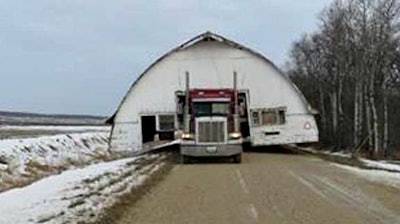 It's one thing to haul a grossly oversized load. It's something else entirely to do it without any permits.
WCCO-TV in Minneapolis reports a truck carrying what it called a "36-foot-wide shed" was stopped and cited by state police Nov. 19 near Thief River Falls in northern Minnesota. The driver is said to have had no permits or escort vehicle.
A Penning County Sheriff's deputy stopped the truck on Center Avenue North, and radioed for a state trooper to help with commercial vehicle laws.
No other details were available.