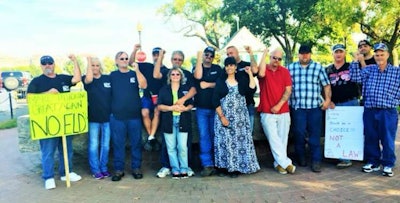 Truck drivers and their supporters are once again taking to the streets to raise awareness about the impending mandated installation of electronic logging devices.
Some 40 informational protests are planned at locations around the country for 9 a.m. local time Monday, Dec. 4. Organizers say the coordinated nationwide ELD Media Blitz is their way of attracting the attention of the public and the media to the ELD mandate set to begin Dec. 18.
H.R. 3282 ELD mandate delay bill
introduced by Texas Rep. Brian Babin. The Republican congressman has also
asked President Trump
to halt the ELD mandate by executive order.
This is the latest in a string of efforts by small carriers and owner/operators to challenge, delay and seek exemptions from the law that requires most heavy duty trucks to install ELDs to be used in place of paper logs. The Owner Operators Independent Drivers Association called for a sweeping, five-year delay of the mandate for small trucking businesses and owner/operators.
In early October, two different anti-ELD groups converged on Washington, D.C. to voice their opposition to the mandate. At the same time, a slow-moving protest convoy rolled in California.