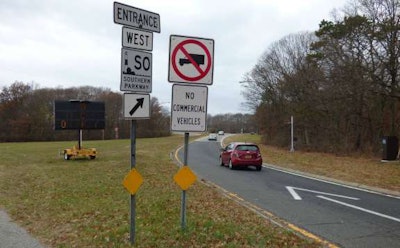 New York State is installing new technology to help stop over-height vehicles from entering Long Island parkways in order to prevent dangerous bridge strikes on low parkway overpasses.
Detectors at the top of a ramp will relay an invisible beam that is set at a specific bridge clearance height for the area, according to a statement from the Gov. Andrew Cuomo's office. An over-height vehicle entering would break the beam, triggering a warning message on a full color message sign. The warning will indicate the vehicle is over height and alerts the driver of impending bridge strikes ahead.
A camera linked to the New York State Department of Transportation's regional traffic management center will record the incident.
Sites completed through November are:
Southbound Eagle Avenue to eastbound Southern State Parkway in the town of Hempstead, Nassau County
Sunrise Highway north service road to westbound Heckscher/Southern State Parkway in the town of Islip, Suffolk County
Southbound State Route 106/107 to eastbound Northern State Parkway in the town of Oyster Bay, Nassau County
Northbound State Route 106/107 to eastbound Northern State Parkway in the town of Oyster Bay
Southbound State Route 106/107 to westbound Northern State Parkway in the town of Oyster Bay
Truck detectors are being installed and expected to be completed in the spring of 2018 at:
Eastbound Interstate 495/Long Island Expressway ramp to eastbound Northern State Parkway in the town of Oyster Bay, Nassau County
Westbound Interstate 495/Long Island Expressway ramp to westbound Northern State Parkway in the town of Oyster Bay
Northbound Peninsula Boulevard to eastbound Southern State Parkway in the town of Hempstead, Nassau County
Southbound Peninsula Boulevard to westbound Southern State Parkway in the town of Hempstead
Southbound State Route 135/Seaford-Oyster Bay Expressway to westbound Southern State Parkway in the town of Hempstead
Southbound State Route 111 to westbound Southern State Parkway in the town of Islip, Suffolk County
Northbound State Route 111 to westbound Southern State Parkway in the town of Islip
Spur Drive North ramp to westbound Southern State Parkway in the town of Islip