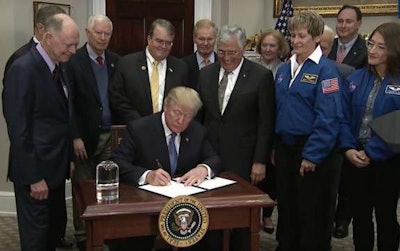 UPDATE: Check out Rep. Brian Babin speaking on the House floor about ELDs at bottom of the page.
Our original story:
One Texas congressman does not give up easily when it comes to his opposition to the mandated installation of electronic logging devices in trucks.
Rep. Brian Babin, a Republican from the 36th District near Houston, reportedly buttonholed President Trump at a White House signing ceremony Monday, Dec. 11, and gave him another anti-ELD letter.
Politico reports Babin was at a ceremony during which the president signed a directive that ordered NASA to make plans for greater space exploration. Politico reports: "But the Texas Republican apparently had a more down-to-earth issue on his mind. After Trump signed the document, Babin gave him a letter related to a regulation requiring electronic logging devices in commercial trucks."
Babin's letter is said to contain reasons he believes the ELD mandate ought to be delayed.
This is the latest of Babin's efforts to put the brakes on the installation of ELDs, which are required in most trucks by Monday, Dec. 18.
He sent a letter to Trump in mid-November asking him to issue an executive order delaying ELDs. In July Babin introduced legislation to delay them; that bill is stranded in a transportation subcommittee.