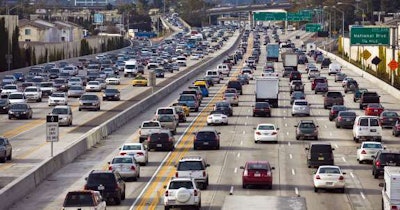 Los Angeles, San Francisco, New York, Seattle and San Jose are the five most traffic-congested cities in the U.S., according to TomTom Telematics research.
The congestion in these cities costs local businesses and trucking fleets $1.7 billion per year or $7.71 million daily in productivity, based on 2016 data from California, New York and Washington. According to data collected by TomTom, the nation's average cost per day from congestion is significantly lower than in these five cities at $1.55 million per day.
Los Angeles by itself accounts for $1.3 billion in lost productivity per year, according to TomTom.
The company also says trucking companies and local businesses lose 241,100,653 productivity hours per year due to congestion in these five cities.
"Overcoming the congestion challenge and recapturing these lost hours is a major challenge for fleet operators. Traffic congestion increases the probability of a driver becoming stuck on the road, wasting billable time, burning fuel, increasing emissions and potentially disappointing customers," says Torsten Grunzig, director of sales for TomTom Telematics North America.